Introducing
A SPECIAL ORDER SERVICE
Personalize a newspaper of your choice
Through the years I have painted flowers on newspapers for clients all over the world. They use them for memorializing a wedding, an anniversary, birthdays and just about any special event in their lives. Two examples: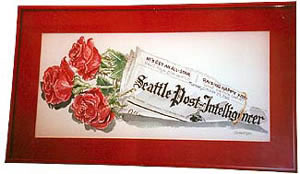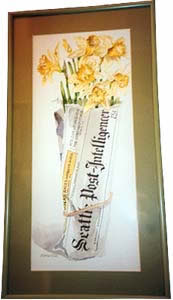 Make your event very special, memorialized with an original painting.
What I need From you!
You must send me a sample of the actual frontpage of your selected newspaper.
The headlines can be used to announce your message. (one line - Not too Long!!)
Tell me what flowers I should paint. (in season - I will buy them fresh at the Market to paint. Most popular are tulips, iris and roses.)
What color matt (over the white liner matt) do you want? (usually matches the color of the flowers.)
Do you want the painting in landscape (horizontal) or portrait (vertical) format.
The quality metal frame matches the color of the matt color - and the flowers.
If this is a gift a personalized gift card can be sent along with your painting if you wish. (I will personalize it for you.)
The size is 10 1/2 by 20 inches only. (For a custom size please call 360 697 7968.)
Allow three weeks for me to paint and send.
The price is $200.00 this includes shipping.
Thank you, Sarah Clementson
Click on the image below to start the ordeing process!